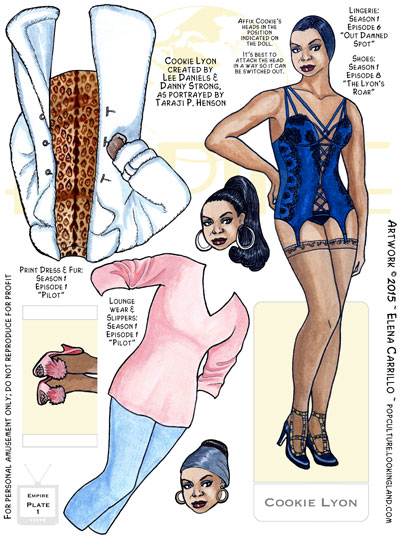 The beautiful Taraji P. Henson plays Cookie Lyon on Empire. Cookie is the long-suffering ex-wife of Lyon Dynasty king Lucious. She served 17 years in prison so that Lucious could build his music empire, and he repaid her by divorcing her while she was incarcerated. But the two have deep ties (including three sons), and their relationship, while volatile, is far from over.
Cookie wastes no time, once she's released from prison, enjoying the spoils of her husband's success. She's quite the fashion plate and her animal prints and furs are legion. Once in a while she wears something down to earth like the lounge wear on this plate, but by and large she's always on display.
Here she wears a bit of infamous lingerie (I meant to include the fur that goes with it in a subsequent plate–maybe I still will). Her Valentino shoes actually don't go with either of these outfits, but I like them and wanted to give her a pair of shoes that could match with most of her outfits (because I can't always clearly see her footwear in the show). The two outfits and hairstyles are from the pilot episode.
[Click this link or  the picture to download a printable .pdf for this doll]
As I mentioned long ago, I had intended to work through Cookie's Season One outfits, then catch up to Season Two before the mid-season break was over last March. Now we're at the end of Season Three and it feels doubtful I will ever catch up. Cookie is quite the clothes-horse. I hadn't intended to do all her outfits, but I wanted to hit the highlights. She has a lot of highlights.
Cookie is a great TV character: she's perfectly vindictive and yet she's all heart. She loves her children and she's been deeply wronged by her ex-husband and circumstances in the world. So even though she occasionally does some pretty heinous things, you can't help but root for her. Henson's performance is wonderfully sympathetic.
There's just an amazing clash of over-the-top garish loud-mouth brassiness and spangles cut by an undercurrent of past suffering and abiding love in her. She's also street-smart and conniving–you know she's capable of just about anything, which makes her dangerous.
It's pretty atypical for me to be drawn into a series like this, let alone inspired to make paper dolls for it. At least that's a testament to how entertaining Empire is both visually as well as story-wise. Unfortunately some bad planning and other issues set this project back (way back).
Even so, I have four plates to post of some of Cookie's outfits from Season One. I want to share them–even as I explain the bad choices I made that led to stalling this one out.