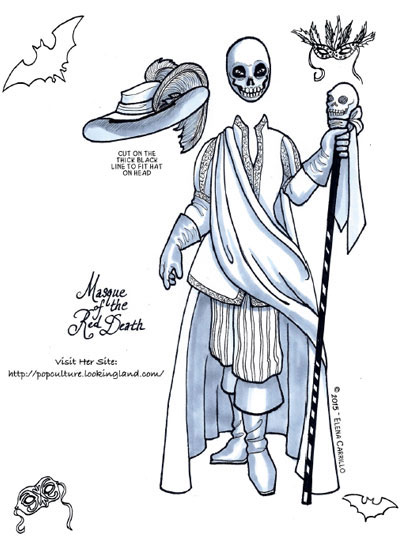 Happy Halloween!
Some years ago, we did a Halloween Paper Doll Round Robin that was so much fun that Rachel decided to throw another one ~ and this time open it up to the readers as well.
This year Julie from Paper Doll School created the doll and Rachel from Paper Thin Personas did the heavy lifting on the wrangling and organizing.
We had so many great submissions that it was decided to split them into three pdfs. Thank you to everyone who participated. It's so awesome to see this level of engagement!
Visit each site below to get the complete set (it's just like trick-or-treating, but on the internet!)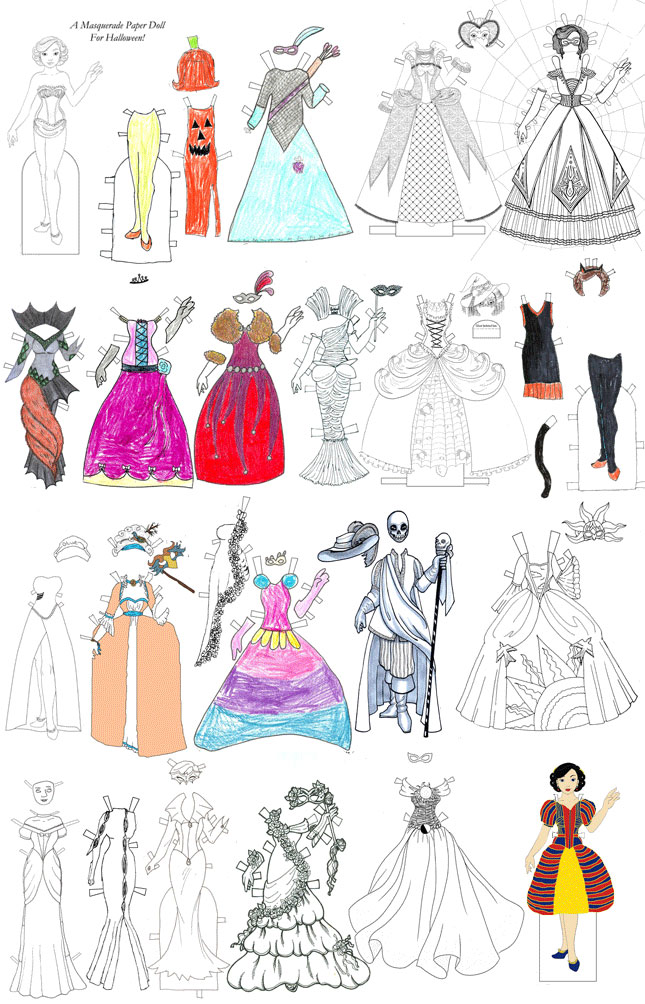 In the batch you download from this site, you will find: the Masque of the Red Death (my own contribution, shown above), a gown from Corpse Bride by Gena, Spider Queen from Irma at Papernukublogi, Cat and Pumpkin costumes from Melinda (in color!), a Vampire by Melissa Smith at Miss Missy Paper Dolls, and a Sun/Moon gown from Liana at Liana's Paper Dolls.
If you're staying in this evening and want to watch a scary movie, I recommend you pick up The Changeling (1980) with George C. Scott, or The Innocents (1961), with Deborah Kerr. Both are classics. If you want something a little more modern, get yourself An American Werewolf in London, or The Thing (1981 & 1982 respectively ~ and classics in their own rights). Something more obscure? Try the underrated Dolls (1987).  If you can't bear to watch anything made prior to the turn of the last century, then pick up Pan's Labyrinth (2006), Orphanage (2007), or the excellently terrifying [Rec] (also 2007 ~ the Spanish version, not that silly American remake). These are all movies that prioritize story over gore and are full of genuine frights. Not for the kiddies, though. Best to stick with the old standbys like The Great Pumpkin.
Enjoy all of your Halloween treats! And the tricks too, if they are good and fun!