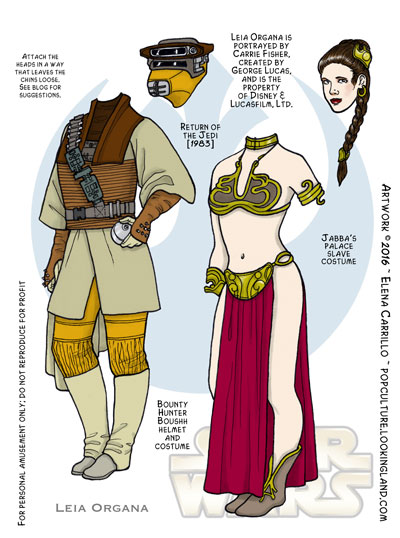 Our last entry for Force February includes Leia's infamous (and controversial, these days) slave outfit. I think Carrie Fisher's response to the controversy is the best. If you don't know what to tell your kids about the costume, tell them what Leia herself would say. Ironically, this point seems lost on a lot of parents. Or the fact that Leia Organa would never have worn an outfit like that, ever, given the choice.
But anyway, the other costume on this plate is the antipode of the metal bikini: a costume that completely conceals Leia's gender and identity, by transforming her in the bounty hunter called Boushh.
Perhaps not surprisingly, as a kid I loved this costume. The fact that it was a disguise and that of a dangerous villain, no less! I loved Leia in it, and when Kenner made the toy of it with the removable helmet, that was my favorite action figure of all. She had many, many adventures with Skiff Guard Lando, who was the sexiest man in the galaxy (at least in toyland–naturally, Han Solo occupied that place on the big screen).
Played for hours with those toys. Just seeing those links with pictures of them brings back many happy memories!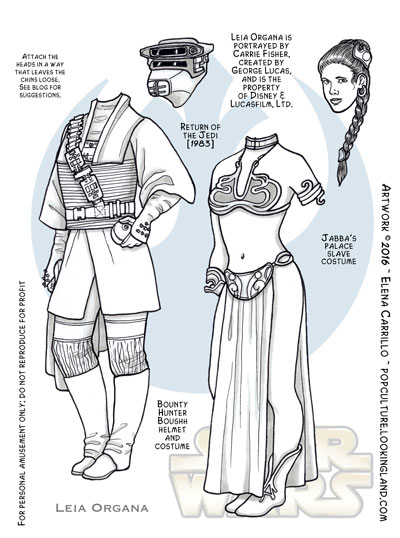 I had intended to draw the staff/weapon thing that Boushh carries into Jabba's palace, but I got lazy (yet again~ ha!). I wish I had pushed myself a little more about it. I certainly had time to do it, but once I had passed it over, I kinda just let it go.
But hey, at least she's holding her thermal detonator, so extra points for that!
So this is my final Force February post! What a crazy month it's been. For all the posting I did, I actually feel like I've been nonetheless quite lazy about it given that I did so much of the original work back in January. I'm out of buffer, though, so this weekend is going to be an interesting race to pull stuff together for next week. Let's see how it all falls out.
Will likely post the last Luke and Leia plates on Friday, though, so for sure there's that to look forward to!
[Click on each image to download a printable .pdf copy of each plate]
To see all Star Wars related posts and plates, click the tag or the category at right. Click the Leia Organa tag to see all of Leia's plates.