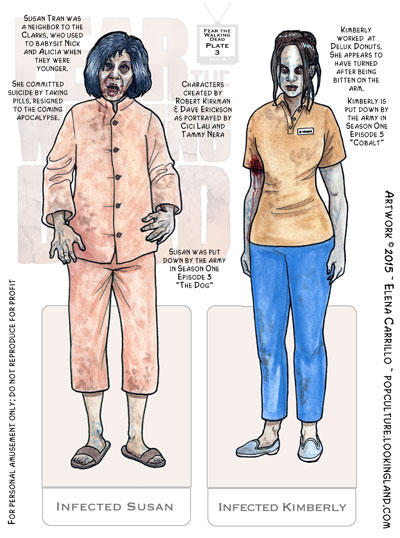 My original goal with the Fear the Walking Dead zombies/infected was to build a whole army of these scary things over the course of the show. I was specifically choosing the ones who had names. There were plenty of other crawlies in Season One, but they were all nameless munchers. I wanted to try to keep the monsters more personalized.
I was fairly slavish about detail on this series. There was plenty of reference to work from. I had to improvise some (like Kimberly's shoes–we never see her feet). Otherwise, I tried to make things pretty accurate.
Season Two concluded a couple of weeks ago. Given that I didn't finish Season One, it's not likely I will pursue this. The show is okay–it has its moments, but it's lost its new car smell in terms of making paper dolls. I may yet finish some of the dolls. Liza and Nick are done; Travis, Madison, Ofelia, and Daniel are kinda half-done.  The rest I drafted, but never painted (Chris, Alicia, and Strand). It's doubtful I will go back to those.
So last/not least: meet Susan and Kimberly.


And have a Happy Halloween!
[Click the picture to download the plate, or the Fear the Walking Dead tag to see related posts.]