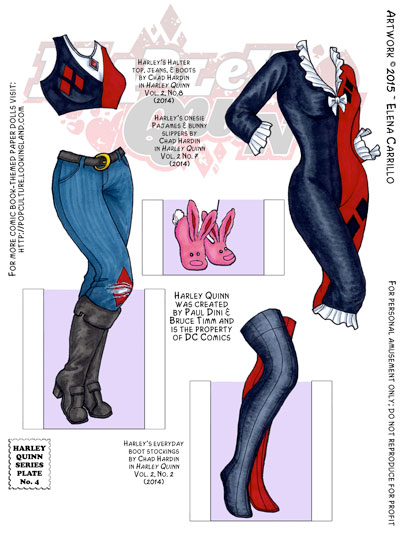 This week's Monday Mayhem brings you more Harley Quinn! This plate features more outfits from her solo comic book including torn jeans, a crop-top, her more regular stocking boots, pajamas, and bunny slippers!
I really do like that this doll, thus far, has the most interchangeable options (and that will likely continue to be the case).
But not if I don't get on the ball and get back to working on Harley & the Joker! I've fallen behind on this series, so this could be the last Monday Mayhem for a while! I can't believe how quickly I ran out of buffer (what have I been doing for the last month? Oh: drawing Star Wars paper dolls). Well I promise I'll try my best not to drop this series, but I confess I'm teetering on the edge of a great big hole at the moment ~ ha! Last night I did manage to draw and color two outfits, though, so I might make next week's deadline yet.
As usual, you can find the doll by clicking on the Harley Quinn tag or in the menu at the right.
[Click on this link or the primary image in this post to download a printable .pdf of this plate]