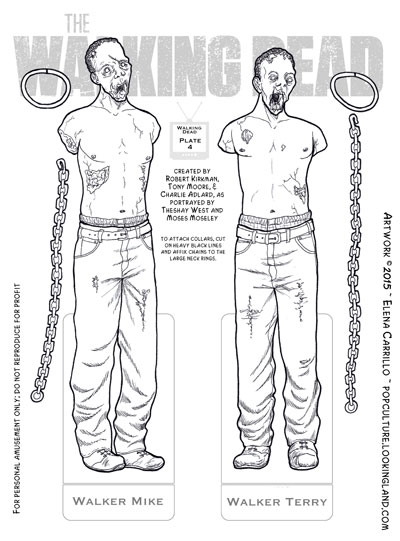 This is the final plate I made for the regular Walking Dead series. I wanted to make sure to include some walkers and these two guys are probably two of the most well-known. Mike and Terry knew Michonne before they were "turned" and she used them as camouflage so that she could travel without being harassed. In order to render them harmless, she removed their arms and jaws (pretty gruesome!).
I was going to draw their shirts and the backpacks they carried (Michonne used them to haul supplies), but I never got around to it. But I did add chains, which can go around their necks just for kicks.
Working on this series was fun, but harder than I expected. A good lesson in taking on cultural icons "just because". When I don't feel absolutely passionate, staying on focus is difficult.
[Click this link or the image to download a printable .pdf of these costumes]
Next week, I'll start posting plates from Fear the Walking Dead (in full color). I continue to fall behind and I've honestly gotten lazy about it, but I'm determined to get the first season completed before Season 2 starts in April.