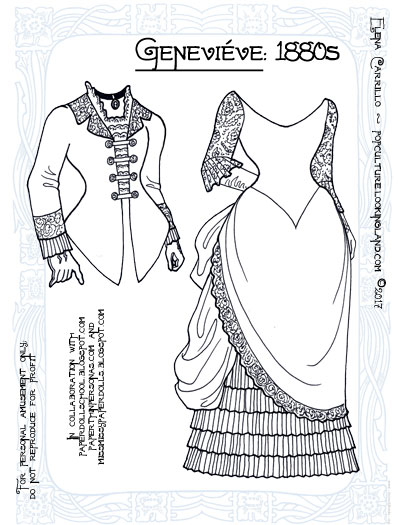 This month's theme is about our favorite era. Mine was always going to be the 19th century and the 1880s is my favorite decade of that century. This was an easy pick for me!
I have always loved the hourglass silhouette of this era: the long sleeves, the high collars, and the embroidery, patterned fabrics, and other detailing on clothes of this period. I am less fond of the bustles. These varied widely through the 80s from enormous to almost non-existent heading into the 90s. Also love all the accessories of this era: the buttons, jewelry, gloves, shoes (oh my God, the shoes!), and other frippery.
For Geneviéve I kept things relatively simple. I imagined the bodice here might be a solid dark velvet perhaps, but I left it blank for you to decorate as you like. The two pieces will layer for an afternoon and evening look (which was common then).
Find more theme outfits to match this doll at the following fabulous blogs:
[Click on this link or the picture to download a printable .pdf]