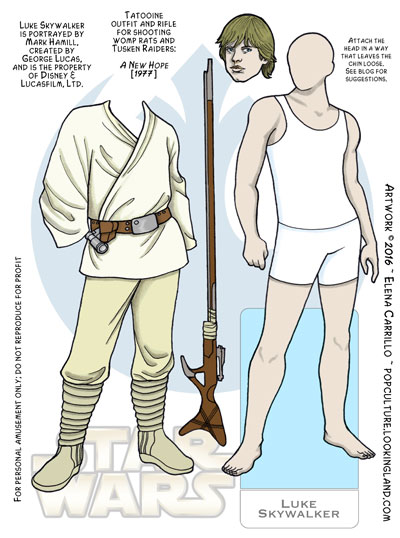 Welcome to Force February! All throughout the month I'll be posting paper dolls and costumes inspired the Original Star Wars Trilogy (and eventually from the first sequel trilogy film, The Force Awakens.
I tend to think about Star Wars as an ensemble saga, but at the heart of it will always be Luke Skywalker whose journey from Tatooine farmboy to Jedi Knight enthralled my generation starting with A New Hope in 1977. So we'll kick off Force February with Luke in his iconic Tatooine desert costume. I included his long rifle (though I think it's a bit short). The design in the background is the symbol of the Rebel Alliance.
In the war of "who's your favorite character in Star Wars?" Luke never won a battle in my book, but not because he isn't amazing. I just always had a terrible crush on his father ~ ha! I can certainly say I appreciate Luke more now than I ever did when I was a kid because I can see all the things I learned from him throughout the Original Trilogy. And I recognize more than ever that even as a kid I always wanted to strongly identify with his empathy and unswervable moral goodness. Perhaps the fact that I loved his father is a strong indication that I actually identified more with Luke, subconsciously.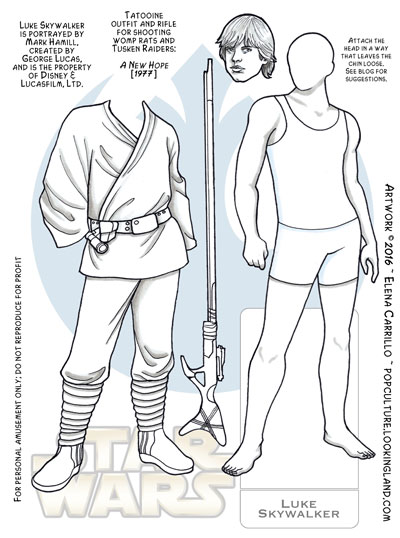 And Mark Hamill is just an awesome guy (check out his Twitter @HamillHimself). He embraces the fandom with humor, humility, and generosity. What's not to love?  It's so nice to see him return to this iconic role after spending the last twenty some-odd years voicing the Joker for WB/DC cartoons and the Arkham video games.  That makes him a favorite character for me in multiple genres!
I drew Luke first when I began this series and I'm surprised at how many costume changes he ended up with (way more than I expected). I skipped the redundancy of his padded Hoth flight suit since it was so similar to his regular X-Wing costume, but I covered all the other pieces. He has six plates in all and comes with a variety of headgear and weapons.
I have not yet updated him for The Force Awakens, so there may be an additional plate eventually when I figure out what to do with the other half of that plate.
[Click on each image to download a printable .pdf copy of each plate]
To see all Star Wars related posts and plates, click the tag or the category at right. Click the Luke Skywalker tag to see all of Luke's plates (this is the first).
Some general notes about this whole series:
 

The Heads

: all of the characters' heads are separated from their bodies so that they can be switched out. Ideally you want to place a paper backing on them so that they can be slipped on over the doll. It's important that the costumes can be slipped under the chin as many of them have high necklines.

The Process

: I really wanted to try different things with this series. I wasn't nearly as experimental as I hoped, but I did push myself a little to include more accessories than I normally produce for paper dolls.

The Colored Plates

: this is my first time producing both black & white and color variants. For coloring I opted to go digital because once I'd completed the linework, shading, and scanning I thought digital color would be quick and easy. Not only was I wrong, but I'm not sure I like how it came out. I wanted to try something new, though, so there you have it. I may yet go back and hand-color the original art.

The Accuracy

: I was generally pretty good about looking up references (of which there are plenty), but I still ended up fudging a bit. If you're so super-geeky to recognize my flubs, you get major points ~ ha!