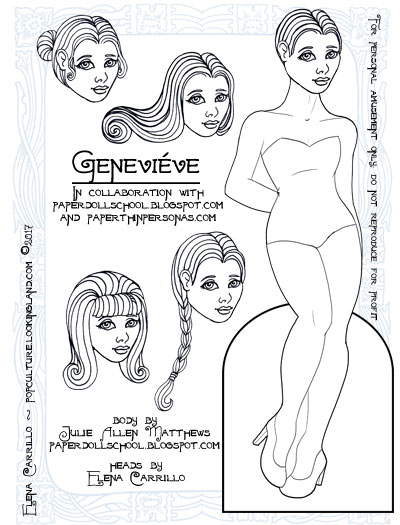 One of the best things about the paper doll community is that although it is rather niche, it's also welcoming. I love to share thoughts and ideas with other paper doll enthusiasts, and two of the best bloggers out there right now are Julie Matthews at Paper Doll School, and Rachel at Paper Thin Personas. We've collaborated in the past to create dolls for a variety of occasions. Our last one was a while back: a masquerade paper doll, with costumes from paper doll fans all over the internet.
It was high time we did another, so now we have a monthly doll to share with you across all three blogs. With a body designed by Julie, each site has posted their own version of the doll, and all three will be able to mix and match their wardrobes (some headwear may not be compatible).
I named my doll Geneviéve, after Catherine Deneuve's sweet naive character in The Umbrellas of Cherbourg. I don't actually imagine the doll as blonde, but with the magic of your own coloring tools, you can make her whatever you want!
Each month there will be a theme for this doll. For January, the theme is "The Year You were Born". I'll be posting Geneviéve's first plate of clothes this coming Friday, the 27th.
[Meanwhile, click on the picture or this link to download the doll!]