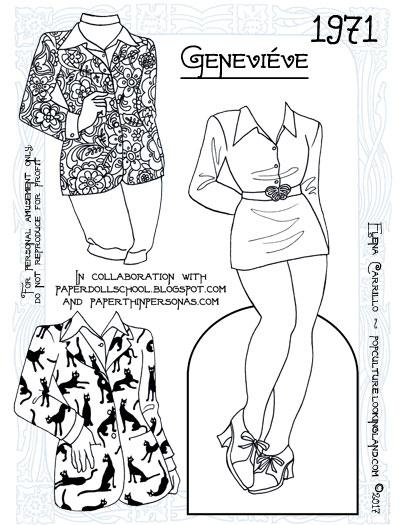 I think I was the one who suggested this first theme for our collaborative paper doll: "The Year You were Born". And afterwards I thought: oh, I guess I just dated myself online. But that's okay. I've never minded being the age that I am. 45 is actually pretty great right now.
Yup. I was born in 1971.
All in the Family debuted on CBS, Charles Manson was sentenced to death for the Tate-LaBianca murders (yeah, that didn't keep), Apollo 14 landed on the moon, and "Stairway to Heaven" had its premiere in concert. I share a birth year with Mark Wahlberg, Snoop Dogg, and Ewan McGregor. Jim Morrison died 43 days before my birthday
When I thought about what I wanted to draw for Geneviéve, I recalled my mother's sewing magazines when I was a kid (she sewed for my older sisters). I did a Google search for "Simplicity fashions 1971" and the image that I posted below popped up. Amazingly, I not only remember this picture vividly from those magazines, but it was the exact picture I had in mind when I went looking.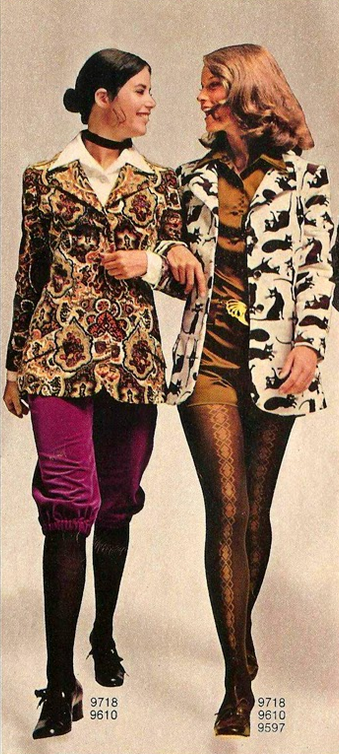 Right away, I knew this was exactly what I wanted to draw for Geneviéve. The velvet knee pants, the satin mini, the crazy patterned jackets. It all screams 1970s without being the predictable bell bottoms.
I love Julie's design for this doll's body because it's so easy to make clothes at this scale. I'm accustomed to drawing very small and this was an opportunity to go big and bold.
Making that intricate jacket was pure joy (I love to doodle). It's not an exact match to the actual pattern, but it is a pattern from 1971 that I found online (and which was easier to see the detail). I did my best with the cats as well–again, it's not exact, but close enough!
I confess I came very close to actually putting tabs on this doll, but I feared setting a precedence! So, as with all of my dolls, if you want tabs, you'll have to add them yourself.
For those of you who find this confounding, it has to do with paper doll history and my fetish for 19th century aesthetics. I keep meaning to write an apologia about this. Maybe now's a good time.
I hope you enjoy coloring and playing with this set as much as I enjoyed drawing it. And now don't forget: you can find more theme outfits to match this doll at the following fabulous blogs:
This collaborative doll will be posted at the end of each month all throughout 2017 with a new theme each month.  To find all related posts on this blog, just click the "Geneviéve" tag.
[Click on this link or the picture to download the plate!]