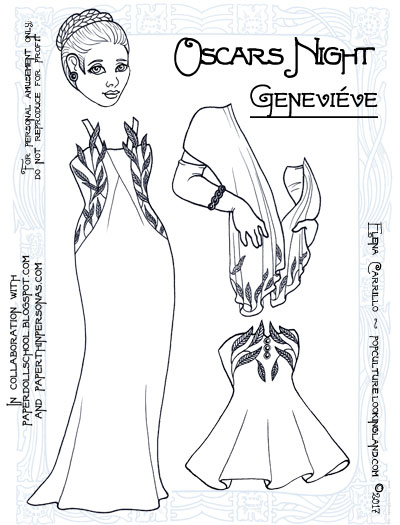 Sunday is Oscars night! What better excuse to dress to the nines? In addition to a formal red carpet gown, Geneviéve has a flirty after-party dress (she'll have to borrow some shoes, though: oops!). If I was smarter, I would have made it so that you could layer the dresses. But that didn't occur to me until too late. Yes, I was too lazy to fix it. Or squeeze in shoes.
These dresses and wrap are based on this look from Blumarine.
Find more theme outfits to match this doll at the following fabulous blogs:
This collaborative doll will be posted at the end of each month all throughout 2017 with a new theme each month.  To find all related posts on this blog, just click the "Geneviéve" tag.
[Click on this link or the picture to download a printable .pdf plate!]