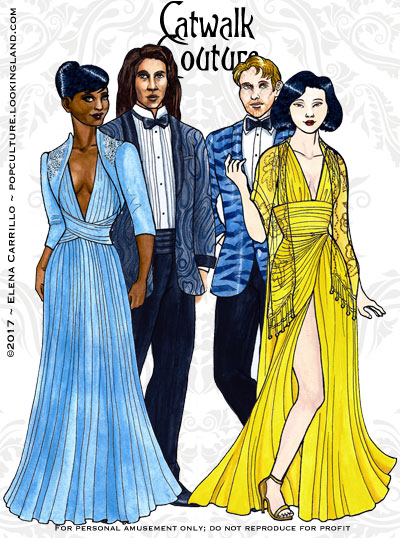 My fashion paper dolls are so unfashionable!  They're not wearing 2017 couture to the Oscars. I'm going to blame it on the fact that this is their first time going and none of them knew any better. Well, Niall should have, but he's kind of prone to break the rules.
So Ifu is wearing a two year-old Chanel gown–but c'mon, it's not like Chanel goes out of style! And Xia is wearing last year's Valentino-esque fashion. The wrap and bolero for the women are completely my own designs. I needed something to fill out the plate and clutch purses seemed too chintzy.
For the men, I separated the Tom Ford tuxedo jackets from the pants because it's easier to pair the slacks and tuxedo shirt with multiple jackets. And yes, there's that tiger-striped jacket of Niall's that I mentioned on the salvage post. But rather than repeatedly draw more tuxedo slacks, it seemed the sensible thing to do here. I mean, I probably will draw more tuxedos, but the slacks are really only differentiated by colors–the style is typically very similar. Especially if they are black.
I should also say that the reason Xia's dress is described as "Valentino-inspired" is because I drew it before I was being methodical about my choices and the reference picture I used said it was Valentino, but then I couldn't actually confirm that anywhere, so I have no idea.
I'm being much more careful going forward! Rather than doing random Google searches, I'm using a variety of fashion-specific sources for reference, particularly:
Vogue Fashion Shows: comprehensive runway site!
Farfetch.com: couture outlet!
I made a conscious decision to fill in as little of the blacks on these line art plates. First, because it's a drag on your printers, but also because you can color stuff however you want. The lapels and cuffs on Lonan's Tom Ford tux jacket are black, but maybe you want them to be neon orange. Have at it!
I'm still working out the best way to plate these dolls, so prepare for a few bumps along the way. I'm trying to avoid leaving the plates too empty or too crowded, but it's hard to find a middle ground. For the women it's not too bad, but the difference in physique on the men makes plating their clothes an interesting challenge.
I decided to throw everything into this post since it's the kick-off and I might as well make it sorta special. I also just haven't figured out the best way to post these plates. Sometimes the colors look kind of flat to me when you can't see what they look like on the dolls. I'm not sure why I have this impression.
To find all plates related to a character or designer, use the tags!
[click on each picture to download a printable .pdf]