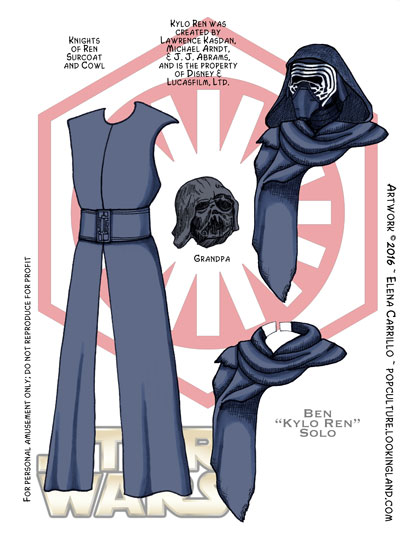 Here is the rest of Kylo Ren's costume, as promised. Just what you always wanted: more black!
I wasn't crazy about Kylo Ren's design when I first saw an image of him before the movie came out. I referred to him as the Darth Vader wanna-be in the little black dress. But I have really come to appreciate this costume for a lot of reasons and now I'm disappointed with how they have altered it for the the next film!  Hopefully the changes will grow on me.
And even though I know this mask is now not long for the galaxy, and still think it looks like a puffin for some reason, I'd really grown to love it. All things pass.
But I still love this character! I know people have a problem with him because he's "evil", and killed his father and all that. But I think he might surprise us in this sequel trilogy. I'm counting on Lucasfilm to not allow our original heroes to go down with this messed up kid as their legacy. That can't happen. It would be completely un-Star Warsy.
Not to mention the mere fact of poor Leia: she already lost her home planet, her place in the Senate, her husband. She shouldn't have to lose her son! That's just unacceptable as far as I'm concerned!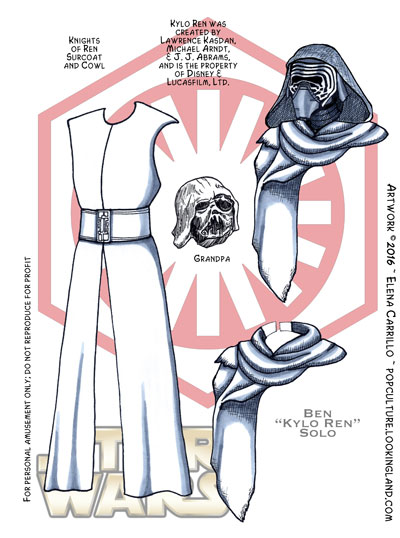 And so yes, I included his real name on his base because I don't care what anyone says: Ben Solo is still in there!
I provided two options for the cowl and added Grandpa to fill out the plate.
I really like the way the helmet/cowl combo came out. I'm impressed I got it done since I'm not very good at drawing these sorts of things. The helmet (Ren's, not Vader's) was the last piece I had to draw and technically I drew it in 2017, so I could have changed the date on this plate. But the rest of it had been sitting around so long, I just left it.
And actually, the Darth Vader helmet was drawn 2015, if you can believe it. I drew it over the Christmas holiday after The Force Awakens opened.
Kylo Ren is the first villain character I've posted for my Star Wars paper dolls. It just occurred to me because everyone else has a blue Rebel Alliance or Resistance logo background. Ren has a red First Order logo. But Ren won't be all alone for long.
Next week: the ginger general
[click on each image to download a printable .pdf copy of each plate]