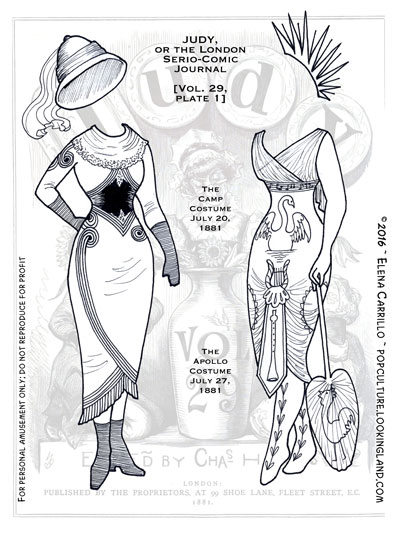 We have a brand new volume for Judy Tuesday starting today: Volume 29 from 1881. It's a bit of leap from Vol. 25, but I did do a couple volumes in between with the older dolls. Now that I'm done playing "pick-up" with the lost volumes, everything from here on out should be relatively chronological.
The "Camp" costume is pretty simple, but I really love it and had fun drawing the whorls. I find I like the Judy costumes that have more contrast and this one has a nice balance. The "Apollo" was quite beautiful in Chasemore's original rendition, but I'm afraid I made a hash of it. And this was my second attempt ~ it's the only Judy costume I've actually redrawn because my first go at it was dreadful.
I confess that in the end, I just settled. And don't even ask me how one is supposed to cut out that crazy sunburst hair dressing!
As usual, to find all the plates in this series (and the dolls themselves) click on the Judy tag down below.
[Click this link or the image to download a printable .pdf of these costumes]