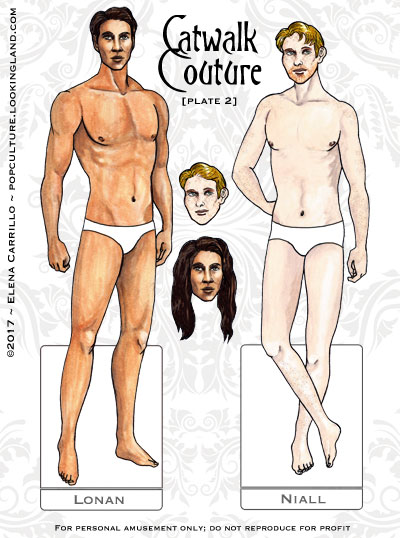 Like our women, the menfolk come from very diverse backgrounds.
Lonan is a twenty-eight year-old high school dropout who was "discovered" at a truckstop in Tonopah, Arizona. He was hitchhiking to the West Coast hoping to get work doing set construction for a movie studio. Now he lives in New York, which he prefers to the desert. He has adapted to modeling and enjoys his job, even though he sometimes struggles with certain aspects of the fashion world.
Lonan has a reserved personality, likes swimming, winter sports, horses, and historical dramas. He's rather smitten with Ifu, but hasn't screwed up enough courage to ask her out. He has a dog and does charity work for a local shelter. Lonan's ancestry is nearly pureblood Zuni and his name means cloud–of course.
Niall is the son of a well-known documentary producer and equally famous photographer. He's twenty-three years old and quite spoiled. Bored studying design in college, he never finished his degree. He's a bit of an exhibitionist and flaunts his bisexuality, modeling for the thrill of it. Despite all that, he's not a hedonist. He has always tempered his joie de vivre to avoid causing scandal for his doting parents.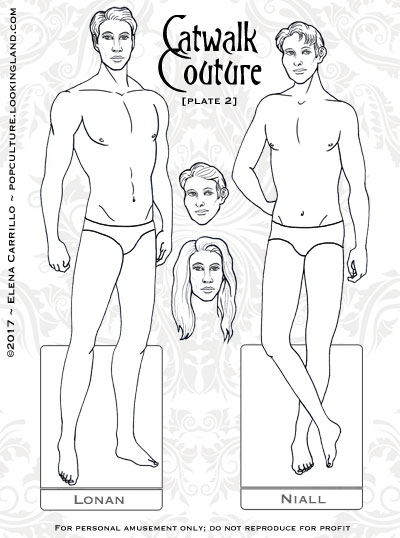 Niall enjoys big noisy blockbusters, musical theatre, and the club scene. But he has good taste in art, music, and cuisine, and enjoys refinement. He loves to travel to exotic places and meet new people. His name is Gaelic, and, like all of the other models, it also means cloud.
Lonan and Niall work well together despite friction due to their different personalities. Or perhaps because of it. Niall constantly needles Lonan for his shyness.
As with the women, when I designed these two, I wanted them to be very different physically and temperamentally. When I look at designer collections I think about what each would choose for themselves. It makes it easier to pick styles that suit them, and to ensure I am considering a variety, rather than selecting items I personally find attractive. Much of Niall's wardrobe consists of things I don't especially like–ha!
Also, though I wanted to make Lonan Native American from the outset, I was less certain of Niall's ancestry at first. I didn't mean to make him Irish. But I have a friend who is very enamored of Domhnall Gleeson, so I was unduly influenced after being compelled to watch his Burberry commercial.
[click on the pictures to download the plates]