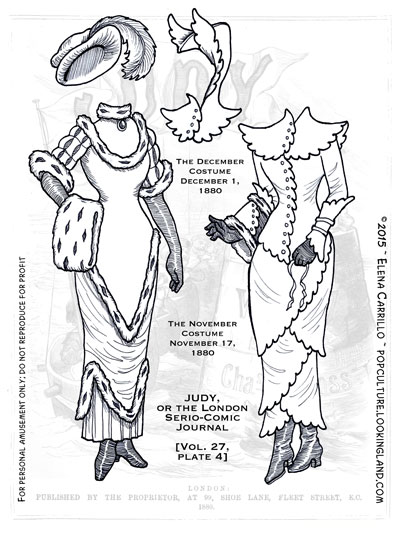 Today for Judy Tuesday we have a couple of nice winter-themed costumes that go well with the season.
I think the November costume might be intended to look like fallen leaves, but I'm totally speculating. The hat with the funny flaps standing up makes it look like a jester's outfit. Even so, when I imagine this in color, I'm thinking of sunset colors (like turning leaves), but that may be because I lack imagination.
The December costume is more traditional winter wear trimmed with ermine and a fairly conservative hat with a nice plume. I like the muff and the extra long dark gloves. It feels like it has a slight Renaissance influence to it. If I were to pick a color for it, I think I would go with royal blue.
One more plate from Volume 27 next Tuesday, and then there will be all new stuff from an all new volume for the all new year!
[Click on this link or the image to download a printable .pdf of this plate]