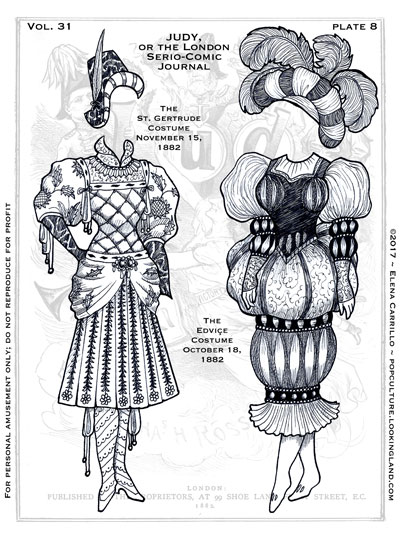 Here it is! The final Volume 31 Judy Tuesday plate. It's definitely a doozy, too!  Took me forever given all the details, but was so worth it. I especially love the insane plumes on that hat and the sunflower designs on the sleeves. It was fun to do all those textures!
I haven't made any progress whatsoever on the next volume. So I guess you can expect a little break on the Judy front for a while.  I've actually been too busy to do much of anything exciting paper-doll-wise for the last couple of weeks, which is kind of a bummer.
I have buffer for Catwalk Couture, but it's all black and white, which I am tempted to just go with. I really am so bad at color most of the time. And I'm even worse about it when I've already finished something in black and white and later face the prospect of having to go back and color it. Which makes no sense–I do like coloring (maybe when it's someone else's work-ha!).
Maybe if I leave the black and white plates alone long enough, I'll be able to come back to color them as if they aren't my own.
[click this link or the image to download a printable .pdf of these costumes]