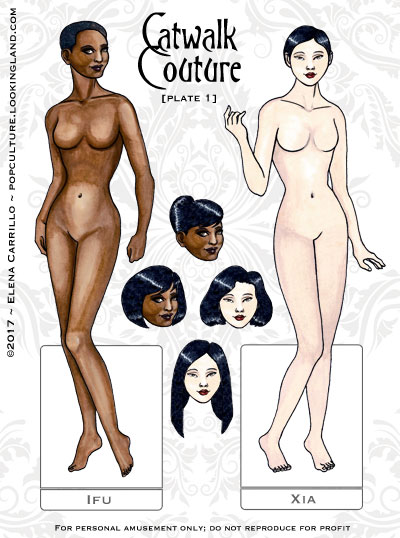 At last! Two lovely ladies to kick of this series!
Ifu is from the Southern African province of KwaZulu-Natal. She was abandoned as a baby and grew up in an orphanage, but studied hard and won a scholarship to study abroad. Now twenty-one years old, she has a bachelors degree in political science and is modeling to support herself as she begins a masters program in public policy.
Ifu is cheerful, but serious-minded. She likes bright colors and percussion music, but adores quiet reading most of all. She is very frugal. Ifu is a vegan and will only wear fake fur. She campaigns for human rights and against animal cruelty. Ifu enjoys yoga, running, and arthouse films. Even though she is afraid of horses, she wishes Lonan would invite her to go riding. Her Zulu name means cloud.
Xia is the youngest of the models, at nineteen. She has modeled since she was a child and won several beauty pageants growing up. She has always wanted a career in fashion. Raised with a very Americanized family in California, she loves the beach, junk food, and big summer parties. But she takes good care of her health and guards her delicate skin from the sun.
Xia enjoys animated films, pop music, and is studying Chinese so she can speak with her grandparents in the Jiangsu province of China, which she has never visited. She loves flower and birds, and keeps scrapbooks full of pressed leaves and colorful feathers. Xia means cloud in Chinese.
Despite their differences, Ifu and Xia are good friends and share an apartment in New York. Xia has taught Ifu a lot about fashion and modeling and helps her with her English. In return, Ifu tries to keep Xia out of trouble given the pitfalls and temptations of the industry. Xia still has a lot of growing up to do and Ifu has a natural protective and motherly nature.
I had originally designed the bodies of the women to mirror each other so that they could wear one another's clothes if you flipped the image horizontally, but that idea went out the window with the revision.
Apologies for their Barbie-like nakedness. I went through a dozen debates about underthings for them and decided this was the easiest way to go.
I've mentioned before that I modeled Ifu (vaguely) on Lupita Nyong'o, though her character in my head is very different. As I was thinking about their personalities, I knew I wanted to give them contrasts: make Ifu more tailored and studious, and Xia more avant garde and bubbly. Their wardrobes will likely reflect this.
[click on the pictures to download the plates]