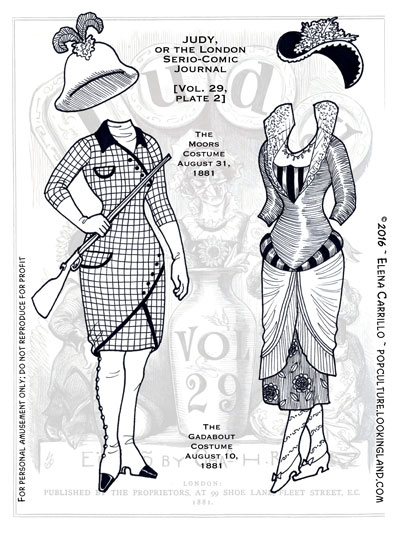 Judy Tuesday brings you a mix of sporting and visiting (?) attire today with a fancy shooting outfit for flushing partridge in the "Moors" apparently, as well as rather noisy costume of a variety of patterns called the "Gadabout".  Gadabout is one of those old-fangled words that unfortunately, has fallen out of usage. It was used to refer to people of somewhat hedonistic predispositions who spent all their time and energy lunching and gossiping and showing off their finery (so basically, the Kardashians).
I actually love the Moors costume. I imagine the black contrasts to be velvet and I love the long gaiters with all the buttons. I would totally wear this outfit.
Judy's gadabout ensemble, on the other hand is kind of a horror: a nightmare of lace and patterns designed to draw attention. I'm frankly surprised the hat wasn't more outrageous.
As usual, to find all the plates in this series (and the dolls themselves) click on the Judy tag down below.
[Click this link or the image to download a printable .pdf of these costumes]