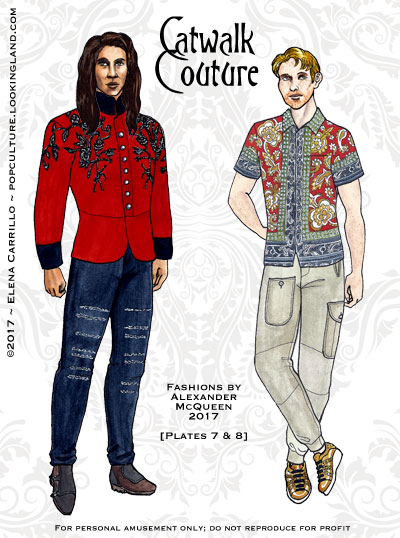 Because I don't have any Judy Tuesday in the wings, you get some midweek couture instead.
I really need to do something with Lonan's hair. He looks like a lion. Also, I gotta say Niall's shirt was a horror to draw, but now I love it. And the gold sneakers.  Niall's clothes are ridiculous, but somehow they just work for him. I gave Lonan my own aesthetic, but I'm trying not to put him in so much black.
It continues to be a major temptation to just make all-black and white clothing. It doesn't help that it's what's on the runway recently.
All of the Alexander McQueen stuff this week came from farfetch.com, which it only just occurred to me that I should archive regularly. It's a commercial site, so the fashions comes and go. I've already lost images from the collection. But you can still get those gold sneakers for 30% off at $648. And the shirt? That will set you back $825.  Sorry, Lonan's red beaded jacket and the other jacket (which was khaki), are sold out! 

[click each black & white plate below to download a printable .pdf]