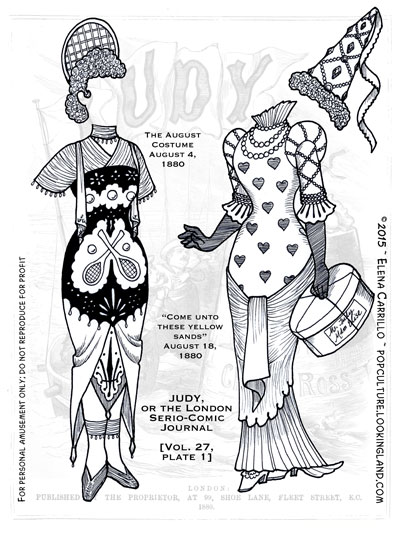 For the month of December, we're celebrating Judy Tuesdays, with a new plate of Judy costumes every second day of the work week in addition to whatever else I've got going on (haven't quite figured it all out).
This week's plate includes costumes from August, but we'll be coordinated with the season by month-end. I really wanted to do an advent-type costume-a-day thing but I'm nowhere near prepared for something like that, so it'll have to wait for next year (hopefully!).
I love drawing the Judy series because it's easy and always full of fun weird things. The reference pictures are simple to render because they are already black and white line work and so I'm not struck in a morass of attempting to figure out complex patterns, brands, colors, etc. Much as I love doing the TV stuff, I definitely have moments where I just fudge it because I can't be hacked to study some article of inscrutable clothing. Shoes are especially death because we don't typically look at people's feet much in television.
I hope you enjoy these costumes from Volume 27. I'm missing Vol. 28, so we'll be skipping to Vol. 29 next. That will, again, put us out of sync with the season, but I'm not going to worry about it going forward.
[Click this link or the image to download a printable .pdf of these costumes]