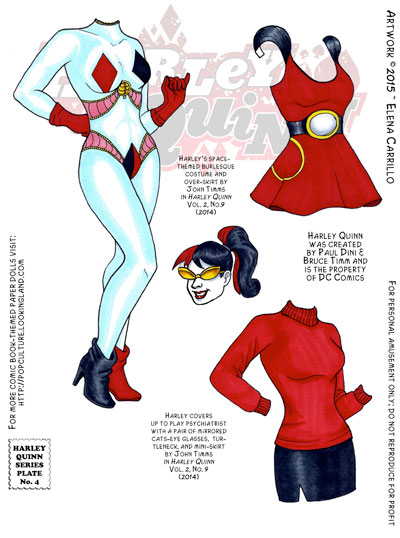 It's Monday mayhem even in the face of President's Day (or maybe that makes it even more appropriate?).
Today we have several outfits from Harley Quinn issue no. 9 (2014) in which Harley is abducted after a burlesque act involving a slinky space alien costume. The sparkly bodysuit was worn under the big-belted dress.
This makes total sense in the comic.
Anyway, she ends up in the lair of an obsessed fan from whom she borrows the less revealing attire of a turtleneck and black skirt, puts her hair up, and play psychiatrist to convince him to let her go (all while they eat pizza, so I really should have included some pizza accessories–gotta keep working on that aspect).
Even though there's still a lot of red and black here at least it's different, right?
You can find the doll by clicking on the Harley Quinn tag or in the menu at the right.
[Click on this link or the primary image in this post to download a printable .pdf of this plate]