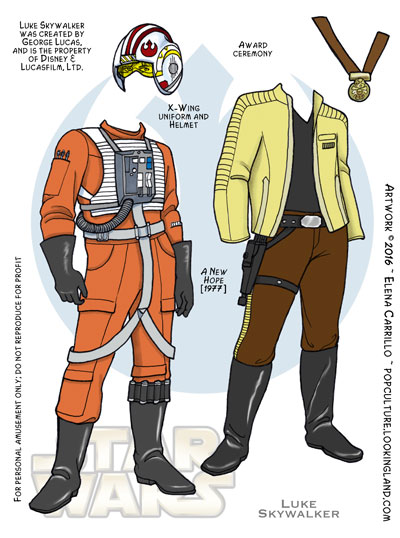 Well lookie, some actual bona fide color for a change here for Force February!  We've finally gotten just about all the whites behind us now, so things should liven up a bit. Leave it to Luke to bring us some bright orange and yellow.
These are the last plates for Luke from A New Hope. He wears the X-wing suit at the end of the movie and then a similar one in The Empire Strikes Back while doing his snow speeder run on Hoth (the snow version is very similar, but padded, so I skipped it).
To be honest, I was dreading drawing the X-wing outfit as it seemed to have a lot of fussy details, but it was actually a lot of fun (straight lines notwithstanding). And then I especially dreaded (and then subsequently enjoyed) making the helmet, which also has some cool details. I've always liked the yellow visors on these helmets. I guess I should have made a training helmet with the blast shield down, but there you have it: me and accessories are rather hit or miss.
The costume Luke wears on Yavin for the final awards ceremony in A New Hope is interesting in that we never see him in anything like it ever again ~ ha!
I still have three more plates for Luke to cover the subsequent films (and still potentially one more to add for The Force Awakens). This is also the moment where I realize that I have all the plates for this week done, but haven't even begun to color the plates for next week (oops!). I got lazy (lulled into a false confidence with my buffer, as always!).
I admit that's frighteningly true of all my buffers at the moment: the coffers are dangerously low. I've got Judy stuff drawn, but not scanned or plated, and I'll run out of Monday Mayhem plates next week. Guess I need to get on that.
In the meantime, enjoy Luke and the ongoing Star Wars plates. Even if I haven't colored them all yet, at least they are otherwise finished. Er, at least for these characters they are.
[Click on each image to download a printable .pdf copy of each plate]
To see all Star Wars related posts and plates, click the tag or the category at right. Click the Luke Skywalker tag to see all of Luke's plates.