This is one of my favorite plates.
Both because I managed to work in some unusual patterns/textures that previously I would have chickened out on, and also because it's another great example of the difference between these two men's styles even with the same designer.
Lonan's geometric-patterned jacket isn't quite exact, but I still like the way it came out. And Niall's long sweater looks like something I wouldn't mind curling up with on a winter day.
And I managed to fit everything on the plate without it looking too insanely packed. All wins!
As I'm painting, I'm seeing the mix-and-match possibilities between the designers and that's pretty fun too. I'm trying to be very deliberate in not making things very similar (black pants on Lonan notwithstanding). So these two are gradually developing an interesting array of shoes and tops and jackets.
This is much easier with the women. With the men sometimes I really like something but it's just too similar to something I've already done. So I end up skipping it in favor of something a little more unique.
I promise their next plate will be m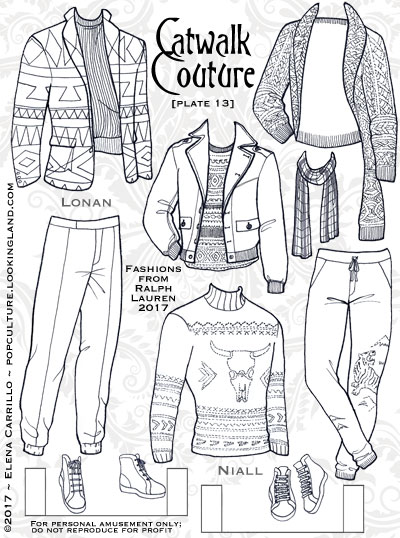 ore appropriate for the season–and very colorful!
While I'm waiting for fresh inspiration to strike for to resume Judy and I have my last Star Wars plates on hold because I've falling down on sending them first to a friend, I may be updating/reposting some old paper dolls from my old blogs.
This is a busy month and I just haven't made much progress on new stuff unfortunately. The Klondike dolls are done but I haven't had a chance to paint any clothes for them! So expect to see some very random old superhero stuff over the next six weeks or so. I see from my files there's stuff I just never posted, so some of it may be new to you. I'll try to keep it interesting!
Meanwhile, I'm especially grateful that I have a decent Couture buffer because otherwise I would be seriously struggling to post something right now!
Next up from this series: more Marchessa!
[click this link or the black & white plate  to download a printable .pdf]