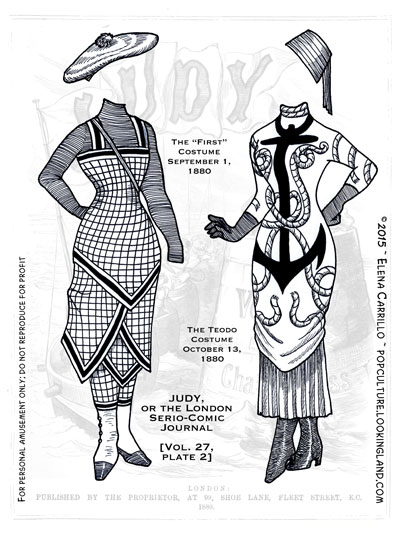 Somehow I managed to miss posting for Judy Tuesday. This is the problem with not having a regular work-week: I'm never entirely certain what day it is!
But all is well in the world because even though it's Wednesday, we'll celebrate it like it's Tuesday with this new plate from Vol. 27. These two costumes are from September and October and sport a great tam and fez. Sometimes even when the dresses are sort of ordinary, the hats are absurd. This plate probably has two of the most even-handed designs in the series.
The costumes get even wackier through the years, so if you think they are a little weird now, wait until we get into the later volumes. It'll be a while, though. I found Vol. 25, which means we'll be regressing for the next outing (but just briefly), then we'll move forward with Vol. 29 as previously planned. I'm hoping to work on Judy a lot over the Christmas holiday since I'm traveling and it's the most portable of my projects (all I need is three Sharpies of varying widths, cardstock, and my iPad to thumb through the reference material). For all the complexity of my other projects, it's always nice to work on Judy for the sheer simplicity.
[Click this link or the image to download a printable .pdf of these costumes]